Warmly welcome the leaders of Chengdu to visit China Science and Technology Innovation Intelligence!
---
2022-08-25 14:05
On the morning of August 17th, the leaders of Chengdu City and the responsible persons of Shenzhen China Hisense Investment Holdings Co., Ltd. (hereinafter referred to as "China Hisense Investment") visited our company to hold a government-enterprise cooperation conversation. Xu Ranxin, Deputy Governor of Jinniu District Government of Chengdu, Chen Youyou, Director of District Economic and Information Bureau, Zhou Mei, Deputy Director of the Industrial Investment Promotion Department of the Municipal Economic and Information Bureau, Fan Xiao, Investment Promotion Commissioner, Lei Gang, Deputy Secretary of the Party Working Committee of High-tech Park, Wu Juexiao, Deputy Director of the District Investment Promotion Bureau, Li Hao, Vice Chairman of the District Association for Science and Technology, Zhao Bin, Deputy General Manager of Jinniu Urban Investment Group, Liu Qiankun, Deputy Director of the Liaison Office of the People's Government of Jinniu District of Chengdu in Shenzhen, and Liu Huan, Director of the Liaison Office in Xiamen, attended the meeting. Fu Huiyi, Vice President of China Hisense Investment, Qiu Jiafang and Huang Xinyan, Investment Managers, and Yu Dongxu, Chairman of Huake Chuangzhi, attended the event.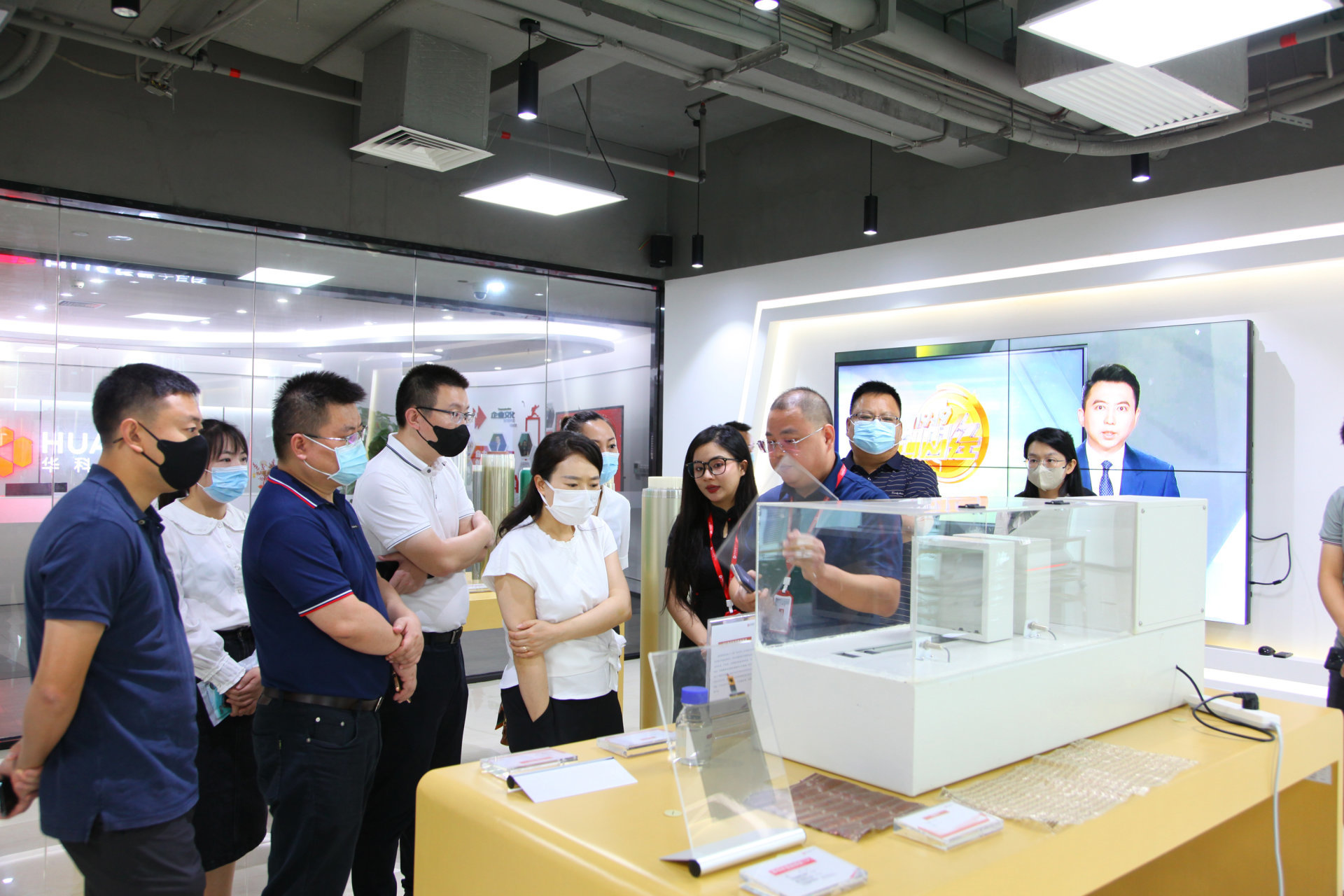 First of all, our leaders led senior lecturers to lead Chengdu leaders and the head of Hisense Investment to visit the exhibition hall of Huake Innovation and Intelligence, introducing the major research achievements, honorary qualifications and R&D strength achieved by Huake Innovation Intelligence since its establishment; Elaborate on the historical breakthrough of nano-silver wire, the core technology material of Huake Innovation and Intelligence, in domestic and even international counterparts; Exhibit the use of nano silver wire from raw materials to parts to complete machines. The development process of the enterprise is shining, and the products produced have high influence in education, commercial display, science and technology and other fields.
At the symposium, Yu Dongxu, Chairman of Huake Chuangzhi, extended a warm welcome to the leaders of Chengdu and the head of Hisense Investment, and thanked the government and investors for their continued support. The three parties conducted in-depth exchanges and discussions on further establishing a close government-enterprise cooperative relationship.
Chairman Yu Dongxu introduced that as a pioneer in the research and development and innovative application of flexible transparent electrode materials, Huake Chuangzhi has led the world in nano-silver wire industrialization technology, and has successfully applied nano-silver wire technology to large-size capacitive screens and become a leader in large-size nano-capacitive screens; At the same time, it also incubates five future technologies of CPI, electrochromism, perovskite, OLED preparation and lighting, and biosensors. Mastering and continuously cultivating the core technology, the company will usher in faster development.
Centennial plan, education first. Xu Ranxin, deputy mayor of Chengdu Jinniu District Government, said that Jinniu District has always paid attention to smart education and talent training. The major breakthroughs made by Huake Chuangzhi in the industrialization of new nano silver wire materials and the smart education products produced by Huake Chuangzhi are of great significance for improving campus education infrastructure. Its representative function can not only improve the teaching level of teachers, help students learn efficiently, but also benefit the eye health of teachers and students. Cooperation between the two sides is the need of the national development strategy, and it is also to promote the development of education.
Focusing on education-oriented and technology-led school-government-enterprise cooperation, Huake Chuangzhi will continue to consolidate the power of core technologies in education, continue to cultivate smart education products, and contribute to the development of national education.
Related News