Media reprint | Hard Technology Entrepreneur Dialogue: What changes does tackling technology bring to yourself and the industry?
---
2022-11-23 13:11
The total valuation exceeds 230 billion, and there are more than 80 "northern, deep, Hangzhou" companies, with an average establishment of only 4 years...
This is the label of "2021 Venture State 100 Future Unicorns" - on December 16, 2021, Huake Chuangzhi won this award, as the only new material enterprise, and the other award-winning companies are also hard technology attackers.
The story behind such a short rise to become the leader in the industry must be wonderful. Let's follow the entrepreneurial state and enter the dialogue "Choose a tough technology, what changes it will bring to yourself and the industry", and listen to the stories and experiences of the big guys.
The following is reproduced from Venture State:
On December 16-17, the Venture 100 Future Unicorn Summit and 2021 Venture Capital Annual Conference was held at Shanghai Marriott Hotel.
With the theme of "Beyond Business", the summit invited the most representative benchmark enterprises, investment institutions and their representatives to focus on the success and history of future unicorns, interpret the social value behind brands beyond business, and find the power of transcendence in insight.
The conference also awarded the "Entrepreneur of the Year", "Entrepreneur of the Year" and "2021 Entrepreneur 100 Future Unicorns". At the same time, the summit also specially displayed the ESG innovation cases of future unicorn enterprises to encourage more enterprises to practice social responsibility.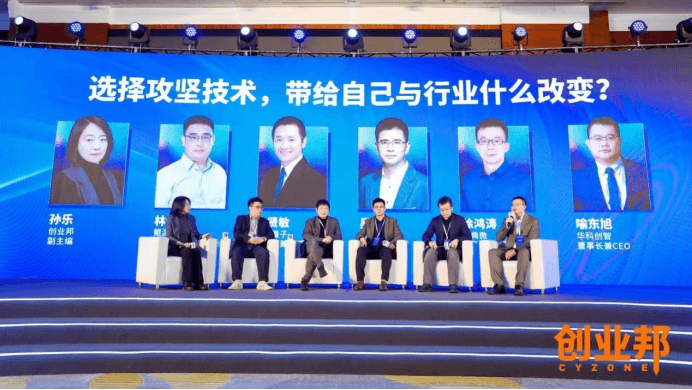 At the summit, Sun Le, deputy editor-in-chief of Venture Bang, Lin Tao, founder and chairman of Kunyou Optoelectronics, Jin Xianmin, founder and CEO of Turing Quantum, Wu Qiang, founder and CEO of Houling Intelligence, Xu Hongtao, founder of Sidian Micro, and Yu Dongxu, chairman and CEO of Huake Chuangzhi, conducted a thematic dialogue entitled "Choosing Tough Technologies to Bring Changes to Yourself and the Industry" (the following is the content of the speech, compiled by Venture Bond):
Sun Le: I am honored that the guests invited today are entrepreneurs who do hard technology entrepreneurship, first of all, please introduce yourself and the company, what can you rely on to become a unicorn in the future? Can you focus on these technologies that the company tackles, what are the main application scenarios? What problem is solved? How can it change the industry?
How to become a unicorn of the future
Lin Tao: I am from Kunyou Optoelectronics, our company is doing optoelectronics, specifically a more subdivided and cutting-edge field, which belongs to the field called wafer-level optics or micro-nano optics, in general, the optoelectronic components are made very small. For example, 3D imaging of consumer electronics, AR and VR display in the meta-universe, and LiDAR, as well as 5G high-speed applications are all partially used.
Kim Hyun-min: I am Jin Hyun-min, the founder of Turing Quantum, and a professor at Shanghai Jiao Tong University. What did you just mention about becoming a unicorn of the future? There was no talk of entrepreneurship in our field before. I have been engaged in the research of quantum information about 20 years ago, and I started working on photonic chips 10 years ago, using photonic chips as the underlying technology to study quantum computing and photonic computing. After decades of accumulation, this field is now on the edge of industry-university-research cutting-edge technology to industrial transformation. Based on the characteristics of the development of this field and the need for China to use hard technology, I chose to start a business.
Turing Quantum was founded in February this year and has completed its third consecutive round of financing, which has also been recognized by investors and market partners. The advantage is that we know that electronic chips may still be subject to some checks and balances, but photonic chips have no impact on the process, mainly in the process and manipulation of some hard technology implantation. Therefore, independent of the process, we mainly develop manipulation methods. We develop a new quantum computing system based on photonic chips to develop the next generation of new architecture, continuing the improvement of human computing power in the post-Moore era, and there are many application scenarios related to computing power, including biomedicine, material science, financial technology, and artificial intelligence, all of which need computing power to solve. So I believe that this field should be artificial intelligence eight or nine years ago, when an empowerment industry has just begun, with broad prospects and a long road.
Wu Qiang: I am Xu Hongtao, the founder of Sidian Micro. We are focusing on chip research and development related to millimeter wave technology. Millimeter wave is known to be part of radio frequency technology, and the frequency band that we now use mobile phones and computers is called centimeter wave. Millimeter wave is its order of magnitude improvement, in the centimeter wave band is about 2-3G hertz, millimeter wave may be 30G hertz to 300G hertz or so, in this frequency band can do more things.
The millimeter wave sensors we heard before are related to automatic driving, and may also be related to defense applications, Sidian Micro hopes to use chip technology to bring millimeter wave capabilities to civil and commercial, and may also be at this time next year, we will really see more terminal products made by our customers with millimeter wave sensors in the smart home and home appliance market. It can bring a more intelligent sensing experience, such as detecting whether there is anyone in the room, synchronously detecting the location and status of people, and detecting the movement trajectory of people in the room. Having such smart devices and people to interact can better bring a more comfortable and humanized new experience. The power consumption of traditional millimeter waves is very large, because in automotive applications, more focus on the sensing function, and do not pay special attention to size and cost. But on truly intelligent terminal hardware, it is very sensitive to size, power consumption and cost.
Sidian Micro is a highly integrated chip function, so that the power consumption, cost and size can be reduced by orders of magnitude compared with the original technology, and can be popularized on smart devices with hundreds of yuan or even less than 100 yuan. Such application scenarios and needs are very rich, such as related to human vital signs monitoring, and related to human positioning tracking, which can help customers achieve product scale with low-cost, high-quality millimeter wave chips.
We hope that through the integration of the underlying chip technology and chip and algorithm technology, the technology that originally looked tall can be truly popularized in people's lives, which is our pursuit of millimeter wave technology itself.
Yu Dongxu: Hello everyone, my name is Yu Dongxu, from Huake Chuangzhi. Our company's headquarters is in Shenzhen, and the time of our establishment should belong to the big brother in today's event, because we were established in 2014.
When I was incubated in 2014, I cooperated with Professor Wen Weijia of the Hong Kong University of Science and Technology to make nano-silver wire. What does nano silver wire do? It can be understood as an electrode material for non-mobile phone touch.
As we all know, Jobs used ITO as a capacitive screen, and after smart phones replaced feature phones, the entire mobile Internet was greatly popularized. With the industrialization of nano silver wire technology, the future will enter the era where all non-mobile phone screens can enter the touch era. Now in the era of mobile Internet, nano silver wire can make all screens with touch and intelligent functions. BOE has made all places have screens, and Huake Chuangzhi can achieve human-computer interaction. Application scenarios are mainly like smart TVs, touch screens in smart cars, as well as touch laptops, and smart homes, all places with screens can be intelligent, this is material technology.
It should be said that material technology is the driving force at the core of every industrial revolution, and the vision of Huake Innovation is to use Chinese science to open a smart future. Our vision is to build world-class material technology platforms like DuPont and 3M in the United States, Toray in Japan, and Bayer in Germany. At present, we have achieved large-scale industrialization of nano silver wire, and have the largest nano silver wire industrial base in China, and also the world's largest nano silver wire industrialization base.
2021 Stocktake: What is the biggest change in the industry?
Sun Le: After listening to everyone's introduction, they are all very powerful cutting-edge technologies. At the end of each year, we will do a year-end inventory, what are the biggest changes you have observed in the entire industry this year? Also, what has changed the most personally this year? Two questions, one about the industry and the other about the entrepreneur's personal growth.
Lin Tao: The industry can see such several dimensions, first of all, from the largest external environment, it is inevitable to talk about the separation between China and the United States and the fault between China and the West, and it feels like the weather problem of the year before last has gradually become a climate problem, which is becoming more and more serious. Including the upstream and downstream of our supply chain, it can feel more severe than the year before, and many things are both good and bad. In terms of benefits, it is precisely because of the separation between China and the United States that it has also led to the demand for domestic demand.
On the other hand, it is precisely because of the changes in the political and economic environment that many new needs are expected relatively quickly. For example, like the meta-universe we are engaged in, this industry has been around for a long time, 20 years ago, but in the past year, it has grown by leaps and bounds, and it is faster than before from the demand side. New demands are coming faster than expected.
I don't think I have changed much, maybe there are some changes in mentality from before, that is, I feel that I think about things for a longer term, the more I do, the more difficult it is to find, especially like our hard technology entrepreneurship, or a lot of investment and preparation. Many of the new needs we are seeing at present must be adequately prepared in advance. So from my own point of view, the change is not particularly big, and indeed the mentality may be a little more stable.
Kim Hyun-min: I think maybe not only this year, but in recent years, I can feel that the country's demand for hard science and technology is becoming more and more important, and it is more and more supportive of scientists in all aspects of entrepreneurship, which is what I see from the general environment.
From the field of quantum technology, especially in the past year, we can see a process of exponential change. Whether it is a start-up company, or a large industrial demander to cut into this field and combine with quantum technology, joint research and development or joint promotion of the market. Quantum technology is accelerating in industry, and exponentially accelerating, unlike the process I have experienced in the past decade or so when I was doing research. We should be able to feel the speed and feel the time running out. Even many scholars other than me, there is a phenomenon that professors in universities have resigned and joined our team, which was unimaginable in the past. I think this acceleration is a very obvious feature that I feel.
For me personally, the past year should have been particularly different. I started my business in May last year, and I also took some detours, and I did a lot of thinking and positioning, but the general direction has not changed. In this process, for business logic, for cooperation, for humanity and management, or always in the process of learning. As a new entrant, I feel that this joy of learning cannot be given by anything else, I feel that I am improving every day, and I am also discovering that in addition to science and research, there are some business logic things that can be understood, can be learned, and gain a lot.
Sun Le: Thanks to Mr. Jin for sharing, we can discuss the topic of scientists starting a business in a moment.
Wu Qiang: I think in the past few years, China has actually changed a lot every year. The change I feel this year is the perception of hard technology, especially the perception of hard technology in the investment community and the general public. Let's say I go to a taxi and the driver asks me what I do? I said I do high-tech, and he said do you make chips? I am particularly emotional about this. A few years ago, I just returned to China, and told my mother that I was making AI chips, and I couldn't explain it clearly for half a day, and now everyone can say that there are a bunch of "stuck neck" technology.
In addition, in recent years, there have been very few institutions that have really invested in hard technology and chips, and now many people who invest in consumption are looking at chips. From last year to this year, for example, we made a large computing power AI chip with storage and computing integration, and I also explained what storage and computing integration is last year. This year is very different, now many investors take the initiative to find me, are to scan the storage and computing integration, they are very in-depth understanding of the storage and computing integrated chip, I think this is the change in the public's and the investment community's perception of the industry.
I started at the end of last year, and the first year I went from CTO to CEO. Later, when I talk about the feelings of scientists starting a business, I can talk about myself, thank you!
Xu Hongtao: I also feel deeply about what the two guests shared just now. Capital is now very optimistic about long-term investment in hard technology, and is willing to invest a lot of resources in long-term product research and development, which may have been difficult to imagine a few years ago.
Another feeling is that several guests, including sharing, are doing perception and computing, which is essentially the intelligence of equipment, especially the trend of artificial intelligence is very obvious. In fact, we can feel very strongly this year that many customers are doing traditional home appliances, such as traditional refrigerators, air conditioners, TVs, lighting, etc., but they are now more and more demanding for a large number of intelligence, and the differentiation of many products is completely dependent on whether the new products have more intelligent functions to drive front-end sales. For example, the sales of products are not rising, but the price is continuing to rise, which is essentially the difference brought about by intelligence, and this difference has been recognized by more customers.
So, we are still on a good driving track, there are indeed many opportunities on this track, and we also look forward to seizing the good opportunities of the intellectual era on the track that is moving at full speed.
In terms of personal changes, Silicon Micro has been established for more than three years since its establishment in 2018. The first generation of chip products has entered large-scale applications. The team has also grown to the order of 100 people. I think in the first three years, most of the energy was in the research and development of technical barriers of products, and partly in the understanding and docking with market customers, and when the team development reached a certain level, I found that management is very important for startups, which may also be a key point to think about from single technology to commercial products.
Yu Dongxu: From the perspective of the industry, especially the Sino-US trade friction in 2018 and the new crown epidemic in 2020, these two aspects have made the country's investment in hard technology unprecedented. It should be said that we are very supportive of hard technology, especially material technology, long-term industry. It's a big environment.
In addition, investors are increasingly identifying with long-term cycles, especially tracks like new materials, because material technology requires a long investment cycle.
Third, as an industry, we have unprecedented opportunities. During the coronavirus period, video meetings have become a must-have way of life and work. In education, it used to be a whiteboard, and now these are our customers.
There are several emerging markets that are vigorously developing, such as new energy vehicles, which have grown very fast in recent years, and the touch screens used here can use our material technology.
In addition, there are smart homes, notebooks. After the release of Windows 11 in October this year, laptops support touch, and many notebook brands began to choose to do touch. This also brings great opportunities for our nanomaterial technology company. There are more and more opportunities along this application scenario, and our road is getting wider and wider.
The biggest pain point of the material, how can you find its application scenarios? Now in the non-mobile phone field of touch, has established its status in the whole industry.
For me personally, the biggest challenge now is that we first started with 8 people, a laboratory of less than 300 square meters, and in the past few years, this product has completed small-scale testing, pilot testing, and industrialization. Now we have laid out more than 100,000 square meters of factories in Jiangsu and Shandong, and it is estimated that we have a team of thousands of people every year.
The biggest challenge we face in the future is how to change from a small entrepreneurial team and small company to a company with international control? This is the biggest challenge for a startup, the founder. Our management ability needs to be continuously improved, and our products and technologies go global, which is my personal experience.
The challenge of starting a business for scientists
Sun Le: Entrepreneurship of scientists is a topic that everyone is very concerned about now, and we think that China has entered the era of scientist entrepreneurship. Several of the people here today are scientists who have started their own businesses, and they must have more say. Mr. Jin, you have just transformed from a scholar to a business, what is the biggest trouble you have encountered in this process?
Kim Hyun-min: In the process of starting a business, what needs to be overcome is that what is done in the laboratory is different from what is done in the industry, and we must pay attention to mass production, is there a market demand? What is our role as a high-tech company when market demand cuts in? I think it's very important, which is autonomy that has been talking.
Let me give you an example, there are now many photonic chips, especially the new generation of information technology processing such photonic chips, in fact, Chinese scientists overseas, in Europe, in Singapore, mass production also rely on very top foundries. In the field of photonic chips, its process is not affected, and the process of photonic chips can be carried out above 60 nanometers. Obviously, our process can be done, or we have to go overseas to tape out. Once there are some uncontrollable factors, if you just do design, you will suddenly lose the initiative. At least our Turing Quantum team is very determined to develop its own Fab (semiconductor factory) technology and develop its own pilot platform. Our current level of process technology may be slightly lower than the international level, but mass production, future risk controllability and time are on our side, I think we can do this.
When I first started my business, I didn't know much about it, but after more than a year of evolution, we built our own Fab and built our own pilot line, and I think this transition is probably the most important one, which is the difference between scientists and entrepreneurs. We must not be too idealistic, we must clearly recognize the general trend of the international community, and the things above the news broadcast are related to us, and each of us is related. The competition of national scientific and technological competitiveness is not an empty phrase, it is also related to us, and even to our entrepreneurship and enterprise security. This autonomy is also important for the long-term development of the business. Mass production demand and risk control are very important for me to take Fab as an example. Inside this transformation, for me, is the process of completing the transformation and benefiting.
Sun Le: Mr. Xu is also a scientist entrepreneur, what is the biggest challenge you encountered in the transformation from scientist to entrepreneur?
Xu Hongtao: In addition to founding Sidian Micro to do commercial products, I am also a professor at Fudan University, before returning to China to start a business, I worked in Intel Research for ten years, and I remember that when I first joined Intel Research, my title was scientist. After working for a while, I suddenly realized that I am not actually a scientist, but rather an engineer. There is actually a difference between science and technology, and I found that my job was not to make scientific discoveries, but to do more practical development of technology, so I later had a stronger sense of identification with the idea of engineers.
I think to do a good job of a product, especially in an engineering industry like ours, it is more about using better and more mature scientific discoveries to deduce better technologies. It is still a role in partial research, but there is still a span from doing research to making products, which is actually a process of productization.
For example, from science to technology to product, it is actually three steps. I think the most difficult thing to do the transformation is the transformation from technology to product, which may be more difficult for most people who have worked in universities for a long time. Most of the scientific research work and projects do not have too many productization constraints, nor too much customer demand guidance. And when it comes to really making a product definition, especially like our product definition of chips, is actually the most difficult part.
If it is just imitation and substitution, I think it is relatively simple, others have defined the product, and know how to use it in the market, as long as there is research and development ability will not be too bad. But it is precisely the most difficult product definition is the most challenging, product definition must not only have enough understanding of chip technology, but also have a lot of constraints, unlike doing research, as long as you make a planned breakthrough at a single point. Therefore, at this time, the transformation from technology to product will be slightly painful, which means that the founder or founding team needs to have a good understanding of market commercialization.
Another point is what is made in the lab and made products, which I often use as one thousandth. You might make a thousand samples in the lab, and if only one of them succeeded, it meant that the technology was connected and interconnected. But conversely, in the company to do a thousand products, there can not be one failure, we have to make a million products to accept the occasional failure exception. It requires a large number of large-scale mass production capabilities, which may not be available in the scientific research environment, and the corresponding resource investment is also huge. For example, we talk about DOE (Design of Experiments) methods that are not available in school labs.
Also making chips, all our chip definitions are to follow the sales of millions, tens of millions to do production. How to control costs, how to control quality, and how to control failures in such a large-scale quantity is very difficult work. If you can't do this part of the work yourself, it means that someone in the team must make corresponding supplements. To change from the role of a scientist to an entrepreneur, you must also have a deep enough understanding of this aspect and be well prepared for this aspect.
Sun Le: Mr. Wu just mentioned that scientists start businesses, what are your thoughts in this regard?
Wu Qiang: I was basically doing scientific research and technology for the past 20 years. But I am different from Mr. Jin, I used to be an engineer, a technical VP, a CTO, and today's CEO, in fact, there is still a change.
The deepest thing I feel is the embrace of uncertainty. In the past, when I did pure technology, many things were certain, and after becoming a CEO, in fact, many things are uncertain, whether it is the market or the entire industry, I think the feeling of being a CEO is that you have to learn to embrace uncertainty, it is best to enjoy uncertainty, and in the case of uncertainty, to determine the result. This is how I feel.
Sun Le: Mr. Lin, have you shared your experience in this regard for scientists to start a business?
Lin Tao: Unlike a few of them, I have done everything. There are many scientists in our company, and my biggest feeling, from my own point of view, a technology-based enterprise does not only rely on technology, including technology, including people, including resources, including various opportunities in the market, and must combine all kinds of things together in order to become a successful enterprise.
Technology-based companies must be based on technology, but they can't just look at technology. A scientist has his expertise, but he can't rely entirely on the expertise of a scientist.
Sun Le: Mr. Yu also shares your thoughts.
Yu Dongxu: I am the only one here who is not a scientist, but I am standing on the shoulders of giants. I am a person who follows scientists to start a business and realize the dreams of scientists.
I particularly agree with Mr. Lin's statement that if an enterprise is only the thinking of scientists, or the ideas of scientists, the enterprise will encounter great problems. Entrepreneurship is diverse. I think entrepreneurship is a triangle: technology, market, capital The triangle is indispensable, especially for hard technology. For example, if you have technology without a market, and if you have technology without funds, you can't play it. Whether it's a small startup team or a large company, this triangle must be balanced.
The biggest feeling of my collaboration with Professor Wen of the Hong Kong University of Science and Technology is that I am responsible for finding the sandbags for the scientists. For example, there are many application scenarios for materials such as nanosilver, and if we developed mobile phones a few years ago, the company may not exist. Because the investment in mobile phone touch screens is too large, ITO (indium tin oxide) has done all the industry inside. If Huake Chuangzhi enters this field, it is a red ocean and cannot be done at all. Later, the direction we chose was to make a super-large touch screen, and we chose to make a capacitive touch conference screen. Although the market is small, we made it.
Scientists are like very strong boxers, you have to know where the market is, you have to get the strategy right. Our company has today, looking back now, if we did the small screen market a few years ago, there must not be now. Now after the big screen is done, we have the ability to do small screen.
We have gone through 5 rounds of financing, each round of financing is a big customer, it is me who knocks on the door with my bag and knocks this big customer down. Scientists can't do it, scientists are focused on technology, not good at words, most scientists have such characteristics. I've been in the market for years, I know what the market needs, I know what customers need.
Another point is that I think investors, especially institutional investors, pay more attention to the comprehensive quality of a team. If there are no people in this team who are engaged in the market and do not have operations, this is very dangerous. My entrepreneurial triangle model should be valid. Of course the scientist is 1, I am 0, I will always be the one standing on the shoulders of the scientist, thank you!
Related News