Good news! Yu Dongxu, CEO of Huake Chuangzhi, was awarded the title of "Shenzhen 100 Innovation Strivers"
---
2021-09-02 13:02
8月30日,新时代"深圳百名创新奋斗者"评选结果出炉,华科创智董事长兼CEO喻东旭突出重围,荣列榜单。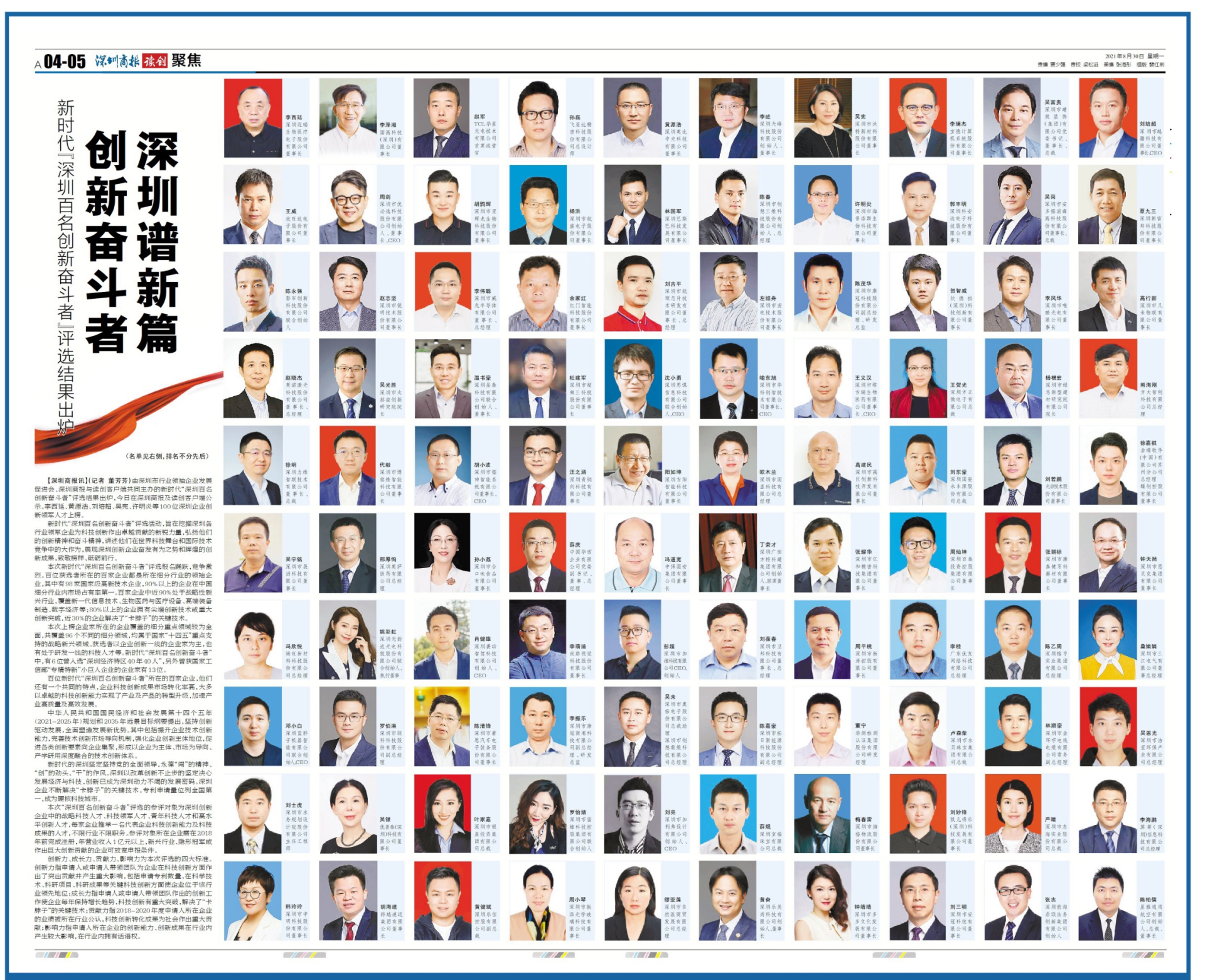 The 100 winners selected this time, the 100 companies they work in, are all leaders in their respective industries. Among them, there are 98 state-level high-tech enterprises, and more than 90% of them have the first market share in China's sub-industries. Nearly 90% of the 100 enterprises are in strategic emerging industries; More than 80% of enterprises have cutting-edge innovative technologies or major innovative breakthroughs, and nearly 30% of enterprises have solved the key technologies of "stuck necks".
Why was Huake Chuangzhi shortlisted?
Since 2014, Huake Chuangzhizuo began to carry out the research and development, production and sales of materials and products based on nano silver wire, after just a few years, it has achieved world-leading achievements, taking the lead in achieving technological breakthroughs in nano-silver materials, nano-diameter standards are currently the smallest in the world, only 8 nanometers, far better than the United States' 11 nanometers, effectively solving the domestic screen display material "stuck neck" problem, and has become a leading enterprise in the nano-silver material industry, known as "a brother of large-size capacitive screens".
Why is the young Huake Chuangzhi growing so rapidly?
Huake Innovation Intelligence was incubated in the Hong Kong University of Science and Technology, and the research and development achievements of Professor Wen, the chief scientist of Professor Wen, for more than 30 years of nano-silver materials, are the foundation for the development of Huake Innovation and Intelligence. In addition, by constantly exploring the application scenarios of nano-silver materials, Huake Chuangzhi does not forget to look up at the starry sky while being down-to-earth, supporting the market with materials, feeding back materials with the market, and truly expanding the integration of production, education and research.
"With Chinese science, create a smart future." In the future, Huake will continue to strive for a smart future with a scientific attitude and innovative spirit.
Related News