Cloud Classroom Live | Material intelligent change, nano silver wire into the mainstream of a new generation of smart blackboard technology
---
2021-05-28 14:58

In recent years, the construction of education informatization has been continuously promoted, and the education scene has gradually developed into a large-scale application in the commercial display market. In order to comprehensively track the trend of intelligent education whiteboards in commercial displays, Shenzhen International Full Touch and Display Exhibition and Shenzhen Commercial Display Technology Exhibition jointly held the [C-TOUCH & DISPLAY CLOUD CLASSROOM - "BLACKBOARD BECOMES WHITEBOARD, EDUCATION IN DEVELOPMENT" INTERACTIVE TABLET APPLICATION IN THE FIELD OF EDUCATION] ONLINE LIVE BROADCAST FORUM.
Gao Yiyi, General Manager of Huake Chuangzhi Intelligent Intelligent Products Business Unit, was invited to participate in this conference as an important guest, and made a sharing report with the theme of "intelligent change of materials, nano silver wire has become the mainstream of a new generation of smart blackboard technology", which triggered heated discussions among netizens in the live broadcast room.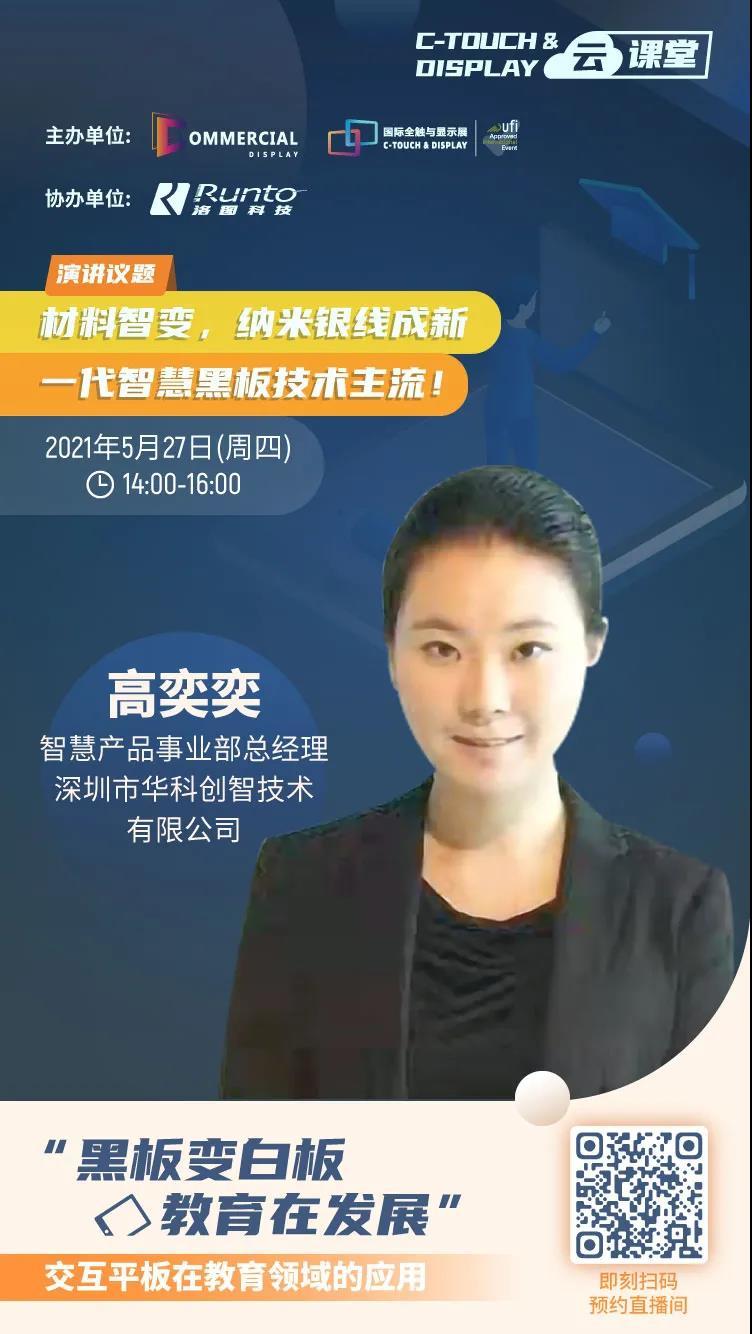 Traditional classroom teaching is inseparable from chalk, blackboard and three-foot lectern, but under the active implementation and promotion of education departments at all levels and all types of schools, various commercial display manufacturers continue to subvert the original electronic whiteboard product concept, technological innovation efforts, an ordinary blackboard in the classroom has undergone earth-shaking changes in less than ten years.
From the traditional chalk writing blackboard, from the magnetic board writing whiteboard, from the projection multimedia equipment to the infrared all-in-one machine, and then to the new generation of nano intelligent blackboard, each round of blackboard has witnessed the reform and development of education. Why is the nano silver smart blackboard widely regarded by the industry as a new generation of smart blackboard?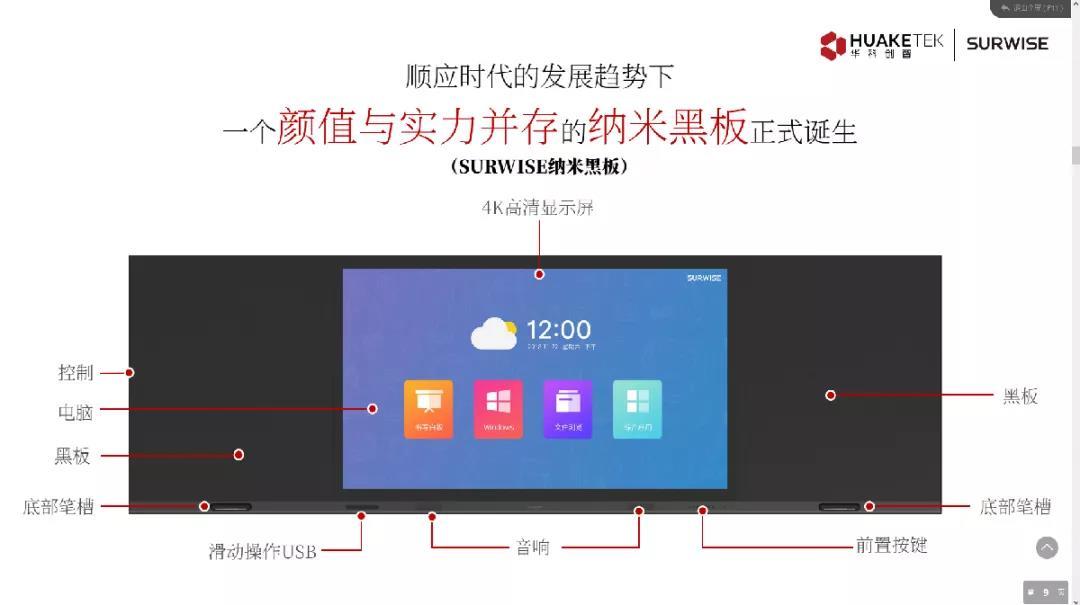 In terms of policy, the State Council and the Ministry of Education have issued a number of reports in recent years, with increasingly higher requirements for teaching terminal equipment, and at the same time paying attention to eye protection; In terms of industry trends, LCD blackboard products continue to grow rapidly, 86" products dominate the top, large size is still the mainstream, and technical solutions show a combination trend of "nano silver wire + full lamination"; In terms of material characteristics, nano-silver wire has the advantages of good conductivity, good light transmission, good bendability, low cost, good stability, and no moiré pattern, and has achieved large-scale application to meet the interaction trend of a new generation of teaching terminals.
For the advantages of Huake SURWISE nanosilver smart blackboard, Gao Yiyi started from the three core highlights of visual experience, touch experience and teaching experience to show the advantages of the product——
Visual experience
Huake SURWISE nanosilver smart blackboard adopts 4K ultra-clear anti-glare screen and full lamination process, and the screen can be clearly presented with a wide viewing angle of 178°; Exclusive blue light removal technology can also reduce the damage of short-wave blue light to human eyes by more than 90%.
Touch experience
Equipped with self-developed nano silver wire capacitive touch technology, it realizes 40-point capacitive touch and ultra-fast response of 0.01s; 5 finger press to switch normal/smart blackboard to meet the writing habits of different teachers.
Teaching experience
Intelligent gesture operation erase, erase, write, save, support mobile phones/tablets and other devices to transmit the screen to the blackboard, teachers can easily prepare for lessons, and students have no worries about reviewing after class and sharing quickly.
In fact, the new generation of ultimate visual, tactile and teaching experience all originates from the "hard" strength behind the nano smart blackboard - Huake Chuangzhi. Huake Chuangzhi is a national high-tech enterprise of strategic new materials with the core technology of nano smart blackboard touch material nano silver wire, and based on this core technology to build a full ecological chain of nano silver wire synthesis, coating, large-scale engineering application and smart terminal application, with rich product development and manufacturing capabilities of nano silver wire capacitor, which has promoted interactive LCD products such as smart blackboard into the market growth stage of "high quality, large size, technology upgrading".
Material intelligent change, nano silver wire into the mainstream of a new generation of smart blackboard technology! Huake Chuangzhi will continue to deeply integrate nano silver wire intelligent technology with education scenarios, and continue to empower the intelligent upgrade of education!
Related News